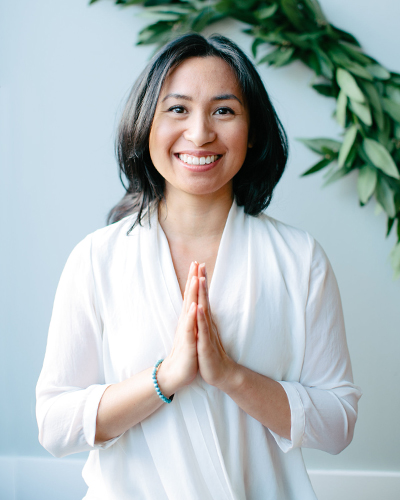 Jennifer Bolus | Integrative Registered Dietitian,
                                  Whole Health Coach
Uncover The Secrets To Losing Weight And Getting Healthy, Naturally!
Are you struggling with weight loss, or health issues like diabetes, anxiety, poor digestion, and low energy?
If so, you're in the right place!
Jennifer uses evidence-based functional nutrition therapy and mind-body practices to help you gain control of your health with long-lasting changes that empower you.
Losing weight and creating true health is about more than simply dieting, counting calories, and exercising. Instead, true results come when you learn to work WITH your body.
If you've suffered through the ups and downs of dieting and haven't gotten the results you wanted, you're likely overwhelmed and frustrated by the flood of information on the topic. And your body is probably suffering and confused too.
Like you, Jennifer has gone through her own journey in, then out of food prison (aka dieting), weight loss, inflammation, digestion pain, and body image issues, so she understands the anxiety and self-consciousness you may feel.
But through her own inside-out transformative journey, she's developed a system of healing and harmony using a holistic, mind-body approach to health, drawing on both modern science and ancient health and body wisdom. And that system can work for you too!
Break Through Your Health Roadblocks: A Mind-Body Healing & Weight Loss System That Begins Within
With a range of skills including clinical and functional nutrition, restorative yoga, meditation, energy medicine, and more, Jennifer can help you get the health and weight loss results you need.
It's time to look at your body and life as an integrated system. Health issues are never isolated! In fact, if you have a health issue in one part of your body, it may be rooted elsewhere (hint: think digestion). So if you just eliminate the symptom as traditionally done in modern medicine, you'll miss what caused it in the first place!
That's why traditional weight loss programs don't work! Sure, you can lose a few pounds by going on a diet for a month, but what happens after that? If you don't take a mind-body approach to your health, you'll end up right back where you started.
Jennifer recognizes that it's not just about shedding a few pounds. Excess weight is a symptom of a deeper issue. The same goes for diabetes, heart disease, high cholesterol, anxiety, stress, or digestive issues. You can get rid of the symptoms, but without treating the cause they'll just come right back.
As your partner in health, you can trust your nutrition therapy will be done in a safe and non-judgmental environment. Health issues are intimate and stir up a lot of our insecurities; Jennifer honours and respects that. Jennifer's sensitive and compassionate nature and contagious PASSION for seeing you thrive on all levels will have you EXCITED and READY to elevate your health to the next level!
After an initial session with Jen, you'll leave feeling healthier and happier now!