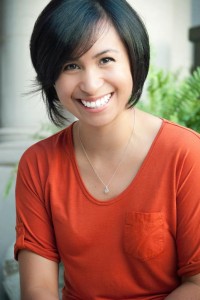 Jennifer Bolus is not your average Registered Dietitian. A Mind Body Health Nut, Energy Medicine Enthusiast, Wellness Expert and Educator, Leader, & Visionary in her field. A self proclaimed 'Curious George', and a recovered left brained dietitian in transition, she is grateful she's never stopped digging deeper into what health and healing really mean. She is committed to her role in guiding individuals back to wholeness by awakening the 'Wellness Warrior' within, and her passion for mind-body wellness is contagious.
In her mid-twenties, Jennifer began a journey to create harmony and healing in her own life. She quickly discovered that taking a holistic approach to life brought qualities of richness, depth, and wisdom to health she never imagined possible. Self-healing went beyond the modern day tendency to focus on the physical and into the realm of alternative and complementary philosophies that recognized the role of energy, spirit, and mind disharmony that precedes the physical symptoms. She draws from all of her experience in both Eastern and Western teaching to blend modern, traditional and ancient approaches for cultivating Whole Health.
Jennifer is on a mission to create a 'health epidemic' helping many in the last eight years reach their health and wellness goals. She has no intention on stopping. She meets you where you are, and creates a safe, supportive, compassionate, non-judgmental space where you can take an active role in creating vibrant health. Her approach is heart-centred and empowering, gently guiding you back to your inner and innate wisdom where wholeness & transformation becomes reality. Working with her, YOU become your own expert! Jennifer sees clients one on one, virtually (via Skype or phone), and provides group workshops and programs. She also continues to work in primary healthcare with the Hamilton Family Health Team.
Her motto: 'Get the inside right, and the outside will fall into place.'
Forever a student of life, Jennifer completed her yoga teacher training in 2011 and teaches Restorative Yoga. She is a Fifth Level Graduate of the Deborah King Center LifeForce Energy Healing program continues to deepen her understanding and growth in the energy medicine field. She is currently in her completion year of Healing Touch Therapy (HTI-PA) with the Canadian Holistic Nurses Association/American Holistic Nurses Association recognized Healing Touch International.
You can also find Jennifer sharing her creative spark at Illuminessence, MindBodyGreen, and The Point (Sherman Hub News) as a contributing writer.